Shopping Cart
Your Cart is Empty
There was an error with PayPal
Click here to try again
Thank you for your business!
You should be receiving an order confirmation from Paypal shortly.
Exit Shopping Cart
We've closed on the new house for our latest partner family! 131 S. Third Street in Ilion will soon be getting the rehab treatment from Herkimer County Habitat for Humanity! We'll be getting started soon! If you want to volunteer, keep your eyes peeled for news and updates about the builing schedule. Posts will be made here and on the face book page.
From time to time we have excess building materials that we don't have use for. Below is a current list. Please contact us through our "Contact Us" page, or the phone numbers below, if you are interested
DOORS
ASKING
30" W X 80" H
cream
$25 
24" W X 80" H (3)
flood damaged at bottom
$25 
324" W X 80 H SLIDING DOOR (3)
flood damaged at bottom
$25 
35" W x 77 1/2 " H
 SLIDING DOOR (2)
flood damaged at bottom
$25 
33" W X 79 1/2" H MOBILE HOME
DOOR (3, 2 WITH WINDOWS)
$25 EACH
36" W X 80" H RH OUTSIDE DOOR
W/WINDOW
NEW
$100 
36" W X 83"H RH OUTSIDE DOOR
W/WINDOW
NEW
$100 
32" W X 82" H LH OUTSIDE DOOR
W/WINDOW
NEW
$100 
38" W X 82" H RH OUTSIDE DOOR
W/WINDOW (2)
$75 EACH
31" W X 79" H STORM DOOR
$25 
32" W X 79 1/2" T LH LIGHT BLUE
DOOR AND DOORFRAME
$25 
WINDOWS 
27 1/2 " X 44" DOUBLE HUNG (5)
NEW
$100 EA
24 1/2" X 50 1/16" (3)
NEW
$100 EA
38 1/4" X 33 1/2"
NEW
$100 
40 3/4" X 50 1/2 (2)
NEW
$100 EA
45 2/3" X 39 1/8" 
NEW
$100 
28 1/4" X 37 3/4"
NEW
$75 
38 1/2" X 51 1/4"
USED
$75 
42 1/4" X 25"
NEW
$100 
28 1/4" X 38"
NEW
$50 
16 7/8" X 23 3/8"
NEW
$50 
211/8" X 37
NEW
$50 
23 3/4" X 30 1/2"
NEW
$50 
22 3/4" X 22 1/2" 
NEW
$50 
24" X 29 1/2" (2)
USED
$7 EACH
19 1/4"  49"
USED
$7 
19 1/4" X 53" (2)
USED
$7 
19 3/4" X 49 1/4"
USED
$7 
BAY WINDOW 73" X 40 1/2"
USED
$25 
CABINETS/SINKS
UTILITY CABINET 36" H X 25" D X
23 1/2" W
FLOOD DAMAGED
$15 
KITCHEN BASE  36" W X 35"
H X 25" D
2 DRAWERS
$15 
BASE 28" W  25 1/2" D X 36
1/2" H
BUTCHER BLOCK TOP AND BACKSPLASH 1 DRAWER
$20 
SMALL BASE 15 1/4" W X 22" D X
30" H
1 DRAWER
$15 
SINGLE BOWL SINK W/FAUCET 37 1/2" W
X 22" D
USED
$20 
PANTRY CABINET 70 1/2"H X 16" D
X 24" W
$35 
OVER SINK CABINETS 54" W  12
1/2" D X 20" H
2 CABINETS SEPARATED
$20 
BASE CABINETS 30" H X 24" W X
12 1/2" D (2)
$20 
BASE CABINET 24" W X 17" D
 35" H 
3 DRAWERS
$20 
BASE CABINET 24" W  X 17"
D X 35" H
1 DRAWER & 1 SHELF
$20 
BATH BASE & SINK 31" W X 19
1/2" D X 32 1/2" H
$30 
BATH BASE & SINK 19" W X
17" D X 31 1/2" H
$25 
MEDICINE CABINET 24"
$15 
WALL CABINET BATH 24" X
28" 
HINGE NEEDS REPAIR
$15 
LIGHTING FIXTURES & MISCELLANOUS
BATHROOM LIGHT 24" X 5" X 4
1/4" & 4 BULBS
$15 
CHANDELIER - GLASS WITH CANDLE LIGHTS
$20 
CHANDELIER WITH BROWN & WHITE PANELS
& SINGLE LARGE LIGHT
$20 
HIDE AWAY IN WALL IRONING CENTER
NEW
$35 
From time to time we have excess building materials that we don't have use for. Below is a current list. Please contact us through our "Contact Us" page, or the phone numbers below, if you are interested:
HERKIMER COUNTY HABITAT FOR HUMANITY  
FOR SALE OR BEST OFFER  
  
DOORS                                                                                                                    ASKING
  
36" W X 85" H                                                                                                             $100
36" W X 79 1/2" H                                                                                                       $100
36" W X 76" H                                                                                                             $100
36" W X 79" H                                                                                                             $100
  
WINDOWS                                                                                                     
45 1/2" W X 52 1/2" H  3 NEW CONSTRUCTION                                                     $100 EA
45 1/2" W X 40 " H 1 NEW CONSTRUCTION                                                           $100
22" W X 23 1/2" H REPLACEMENT WINDOW                                                          $40
  
FURNACE                                                                                                     
125,000 BTU OIL/FORCED AIR FURNACE (LIKE NEW)                                          $200
  
CABINETS                                                                                                     
24" BASE CABINET /SINK WHITE                                                                               $20
31" VANITY SINK & CABINET  GOLDEN OAK/WHITE SINK                                      $25
24" BASE CABINET  WHITE                                                                                         $15
24" WALL CABINETS (2) WHITE BATHROOM                                                            $15 EA
23" CABINETS (2) WHITE FOR OVER TOILET                                                           $15 EA
21" W X 82" H CABINET PANTRY                                                                                $40
36" W X 22 1/2 " H X 24" D CABINET OVER REFRIGERATOR OAK FINISH             $15
24" BASE CABINET WHITE                                                                                          $15
24" MEDICINE CABINET WHITE                                                                                  $15
61" X 22" DOUBLE BOWL CORIAN TOP/BLACKSPLASH                                          $25
  
PHONE 866-4909 OR 542 2134 AND  LEAVE MSG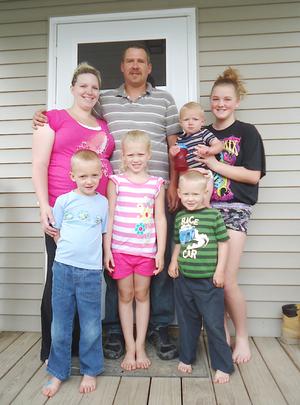 By Donna Thompson, Herkimer Telegram (June 7, 2013)

Clayville, N.Y. — Herkimer County Habitat for Humanity dedicated the newly completed St. Onge home

on Jerusalem Hill Road in the town of Litchfield Sunday afternoon.

The house has four bedrooms, one bathroom, a combination living room, dining room and kitchen and a

large basement, according to Frank Kucerak, of Habitat for Humanity, who served as construction

coordinator. The family, including Shawn and Angela St. Onge and their children, Colton, Hunter,

Shawn Paul, Isabella and Faythe, had been living in a trailer.

In addition to dedicating the home, Habitat recognized volunteers for the hours they put into the project

and individuals and businesses for their contributions. Herkimer County Habitat for Humanity President

Christine Mergenthaler presented a Bible to the St. Onge family. The Rev. Andrew Peloubet of the Ilion

First Baptist Church offered the opening prayer and benediction.

The Herkimer County Habitat board meets the fourth Tuesday of each month at the Annunciation Parish

Hall in Ilion. The next meeting is scheduled for June 25 at 7 p.m. All those interested are welcome to

attend.

Habitat for Humanity is an international Christian housing ministry which seeks to provide simple,

decent housing to low-income families who are willing to work with Habitat volunteers to build their

own homes. Habitat homes are then sold to these partner families at no profit and the organization

provides a zero-interest mortgage. All income from mortgage payments is used to build more low-cost

homes.

Read more: http://www.herkimertelegram.com/news/x90724385/Habitat-dedicates-house-in-

Litchfield#ixzz2VX8J7ziQ

0

/